The White Pass & Yukon used to have a large steam locomotive roster, even though now most of the trains are run with diesel engines. As of today (September 2001), the railroad still has two Baldwin built steam engines, operational and used for excursion trains. One of them has spent her entire career on the WP&YR.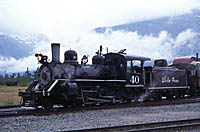 The fifties have been fatal to a lot of narrow gauge railroads in America, the WP&YR was one of the few to survive by modernizing and converting to diesel power. The railroad used heavy 6-axle diesel-electric engines built first by General Electric and then by Alco, they were quite powerful for narrow gauge engines (1200hp for the Alco).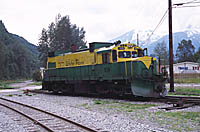 Because of its isolation in Alaska, the White Pass & Yukon has to carry out its maintenance almost completely by itself, and consequently uses large and well equiped modern shops. These shops maintain about twenty locomotives and some sixty passenger cars in use for daily operations on the line.